St George's Hospital midwives breathed a collective sigh of relief after today's announcement that the maternity service is to continue at least until the new central city primary maternity unit opens in the middle of next year.
The midwives have been in limbo for the past two months after a change proposal was presented to staff which included closing the service. This exacerbated the ability to fully staff the unit which has meant women have had to be turned away when requesting a post-natal transfer from Christchurch Women's Hospital. The midwifery team were dreading the final decision would be to close the unit.
Karen Gray, the midwives' union (MERAS) organiser, says midwives have worked hard to keep the service going, while at the same time managing significant stress created by the uncertainty about their future and the future of the maternity service, which they support and believe in.
Ms Gray says today's decision validates the work they do as midwives supporting women, their whānau and their babies."
"The care provided by the dedicated midwives at St George's ensures that women go home with knowledge and confidence to embark on their mothering journey. This is something that is more difficult to achieve in a busy tertiary maternity hospital."
Ms Gray says St George's has been advertising midwifery positions to fill their vacancies. However, she knows of midwives who were keen to work there but have not pursued it because of the uncertainty.
"We're hoping midwives will want to come to St George's which opened a new 12-bed unit just last year," she says. "It's been operating only five beds because of staffing issues and the unit has regularly been at capacity."
MERAS co-leader Jill Ovens says the continuation of the St Georges maternity unit, after 80 years of service to Christchurch women, ensures they still have a choice about where they have their baby, and where they can receive postnatal care.
"Giving birth either at home or in a primary birthing unit have been proven to achieve some of the best outcomes for women and their babies. With the new central city birthing unit opening next year and St George's to continue in the meantime, we are pleased choice has been retained," Ms Ovens says.
MERAS will continue to work closely with St George's to ensure the service can operate fully staffed, providing its excellent services to the women of Christchurch.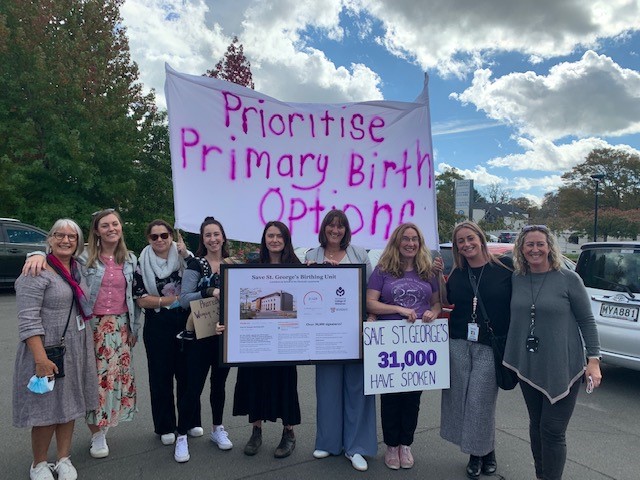 A petition to keep the St George's Hospital maternity ward open with more than 30,000 signatures was hand-delivered in April 2022.