The 2020 Election is on Saturday 17 October

---
Voting in the Election
Election day is 17 October, but you can also vote before then at lots of different voting places all over New Zealand. If you have received your EasyVote card in the post it will speed things up slightly if you take it with you, but it's not essential. You don't need to go to your local polling station either, you can go to any polling station if that is more convenient for you.
The 2020 General Election and referendums will be different because of COVID-19. The Electoral Commission have processes in place to protect you and your whānau. This includes things like making voting places safer, ensuring social distancing and encouraging people to bring their own pen. You can read about these measures here
You get two votes in the election — a party vote and an electorate vote. Your party vote is for the political party you want to be in government. Your electorate vote is for the candidate you would like to be the member of Parliament for the area you live in.
You can also vote in two referendums — the Cannabis legalisation and control referendum and the End of Life Choice referendum.
---
Referendums
At the same time you vote in the General Election, you get to choose whether to answer Yes or No to the Two referendum questions:
Cannabis legalisation and control referendum "Do you support the proposed Cannabis Legalisation and Control Bill?"
End of Life Choice referendum "Do you support the End of Life Choice Act 2019 coming into force?"
---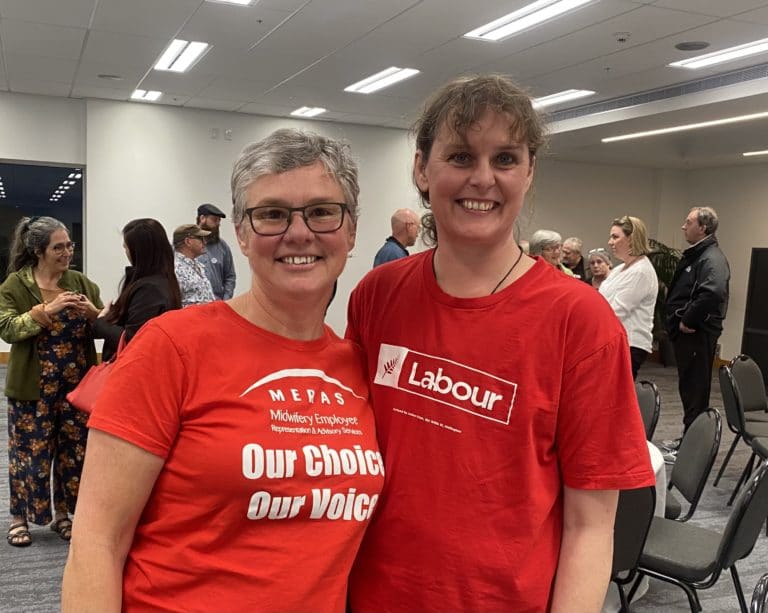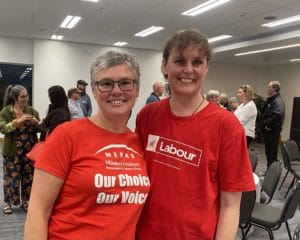 MERAS organiser Karen Gray (left) and ARA Midwifery lecturer Sarah Pallett (right) enjoy a night of politics hosted by Canterbury Unions to give workers the opportunity to ask questions of their politicians.
---
Labour and Green party policies
Find out about Labour and Green Party policies
Green Party Election Initiatives
---
At the Labour Party's launch in early August Prime Minister Jacinda Ardern called the 2020 Election a "Covid Election". Within a fortnight the Election was delayed to 17 October due to a Covid outbreak in Auckland.
Covid-19 highlighted strengths in our nation's ability to respond to a major health emergency. The Government's prompt introduction of the wage subsidy and business support also helped many families.
However, it is clear that our health system remains vulnerable to Covid outbreaks, and as a consequence the vulnerability of our economy, particularly in relation to unemployment.
MERAS is actively involved in the Council of Trade Unions' campaign to re-elect a progressive Government and the MERAS National Representatives Council has endorsed our campaign to elect a Labour-Greens Government.
MERAS is calling on the Government to assign some of the money being put into upskilling workers displaced by Covid-19 into financially supporting university students in areas of national shortage, including midwives. The first instinct of successive Governments in the face of shortages in midwifery, nursing and teaching has been to recruit internationally trained professionals, rather than investing in "growing our own".
In the past, university students going into teaching were paid generous "studentships" and were bonded on employment as a teacher. MERAS has called for financial support for midwifery students through the Midwifery Accord with an expanded Voluntary Bonding scheme.
Other priorities endorsed by the NRC for our Election campaign are as follows:
Maternity priorities
Pay Equity (conclude the pay equity process for employed midwives)
Prioritise women's health (adequate funding of all maternity services, support for new families including extension and improvement of paid parental leave, wrap-around services for vulnerable women and their babies, community breastfeeding initiatives)
Funding to support upgrade of maternity facilities and provision of publicly funded primary birthing centres where needed
Review of the model and funding of DHB contracted-out maternity services and facilities
Broader societal priorities
Community health and wellbeing (a focus on whanau and the value of human friendship, as opposed to an emphasis on economic growth)
Prioritise people and our Planet (tackle climate change, biodiversity, waste reduction, clean air, clean water)
Reprioritise investment (invest in health, education, affordable housing, and services for women and their families such as those services that address family violence,)
Reorganise work (living wage, support and retraining for workers displaced by impact of COVID-19)
Reset our economy sustainably (e.g. local manufacturing to secure supply chain for essential products such as PPE and pharmaceuticals, food resilience)
---
2020 is a significant year for MERAS. We will be completing work on the Midwifery Accord and the Midwifery Pay Equity claim. We will be developing our bargaining strategy for the DHBs MECA, which will be underway by the end of the year.
The World Health Organisation has designated 2020 the Year of the Midwife to acknowledge the vital role midwives play in providing essential and effective health services worldwide. International Midwives Day (5 May) is an opportunity to organise workplace activities or activities being held as part of the College of Midwives #backmidwives campaign.
It will be 30 years in August 2020 since the passing of the Nurses Amendment Act which recognised midwifery as an autonomous profession in its own right with direct entry midwifery training.
MERAS is actively involved in the Council of Trade Unions' campaign to re-elect a progressive Government and this forum will be an opportunity to inspire workplace reps to maximise our members' participation in the campaign.
Objectives of the MERAS Election Campaign
To campaign for the election of a Labour-Greens Government, and in doing so, create a public groundswell that will see the incoming Government prioritise progressive change for women, their babies, and their whanau.
To celebrate the gains for employed midwives in 2020, including the Accord and Pay Equity, and to elect a Government that will ensure these gains continue.
To make the resourcing of midwives an Election issue in collaboration with the College of Midwives.
To provide opportunities for our members to participate in campaign activities (i.e. MERAS, the College and cross-union campaign activities).