MERAS Annual General Meeting 2020
We held the MERAS AGM on Tuesday, 11 August. It was our biggest ever attendance by members, thanks to Zoom. At the AGM, we had reports from Michelle Archer as the Acting Chair and from Caroline Conroy and Jill Ovens as Co-leaders. We also voted on changes to the MERAS Constitution, including provision for a biennial Conference of workplace reps, and student membership. The updated version of the constitution can be found here.
MERAS Co-Leader (Midwifery) report to the 2020 AGM
MERAS Co-leader (Industrial) report to the 2020 AGM
---
Who is MERAS?
Established by the NZ College of Midwives (NZCOM) in 2002 as a separate but associated organisation to give voice for employed midwives.

All members of MERAS are also members of the College of Midwives, the professional organisation for midwives.

In just a few years MERAS has grown to represent by far the majority of employed midwives.

MERAS members elect their workplace representatives, who are in turn represented by members of the National Representatives Council (NRC) from each region.

MERAS has two co-leaders who provide advice and support for the NRC, workplace reps and members, bargain Collective Agreements, and maintain relationships with NZCOM, employers, other unions, and external bodies.
What does MERAS do?
Bargains Collective Agreements for midwives
Provides support and advocacy for individuals or groups of midwives to address workplace issues
Provides feedback on consultation documents
Supports workplace reps and members at formal meetings
Lobbies politicians and officials
Campaigns for recognition of midwifery
MERAS objectives
To develop, negotiate and promote a Multi-Employer Collective Employment Agreement (MECA) for DHB-employed midwives and Collective Employment Agreements (CEA) for other employed midwife workplaces
To protect and enhance the workplace, economic and industrial interests of MERAS members
To stimulate and encourage MERAS membership
To advocate on behalf of members at a ward, unit, DHB and national level
To develop strategies and principles that underpin the decision making of MERAS and support members
MERAS Structure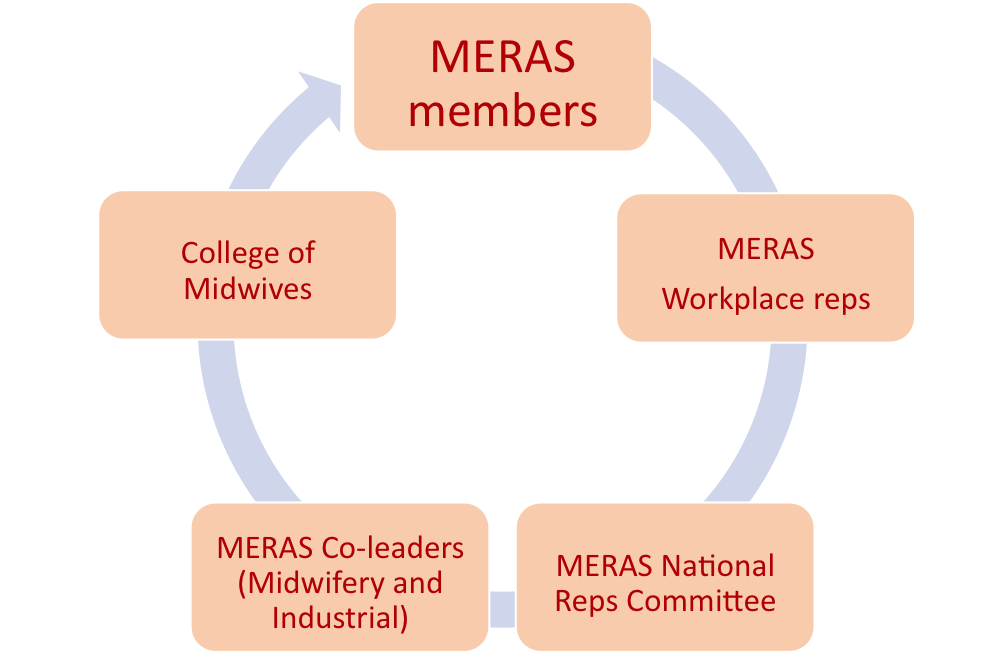 Who is on the NRC?
Michelle Archer, NRC Chair
Bronwyn King, Deputy Chair
Victoria Christian, Finance Committee member
Jaimee Bamford – representing Canterbury, South Canterbury, West Coast and Nelson-Marlborough DHB catchment areas.
Theresa Enright representing the Lakes, Tairawhiti and Bay of Plenty DHB catchment areas
Joyce Croft – representing the Northland DHB catchment area.
Holly Mudford – representing MidCentral, Hawkes Bay and Taranaki DHBs catchment areas.
Verity O'Connor – representing Capital and Coast, Hutt and Wairarapa.
Jo Simpson – representing the Waikato
Jennifer Fletcher, Māori midwife representative
Alison Eddy, the New Zealand College of Midwives ('the College') Chief Executive Officer
Claire MacDonald, who has been appointed by the College
MERAS Co-Leaders Caroline Conroy and Jill Ovens
There is currently a vacancy on the NRC for a Waitemata rep.
At our recent AGM we farewelled Karen Ferraccioli, our previous NRC Chair, who has stepped down to take up a position as Hutt DHB Director of Midwifery where she has already made a positive impression with her energy and commitment. She is also making a significant contribution to the Midwifery Leaders Group.
We also farewelled Karen Gray from the NRC. Karen has stepped down to take up her role as MERAS organiser, based in Christchurch. She has already made a difference at Christchurch Women's Hospital where MERAS membership now exceeds 100.
Our NRC leaders

| | |
| --- | --- |
| Jill Ovens (MERAS industrial co-leader), Victoria Christian (member of the finance committee), Caroline Conroy (MERAS midwifery co-leader), former NRC chairs Kelly McConville and Karen Ferraccioli, and Michelle Archer (NRC chair). | NRC rep Verity O'Connor (left) with Leila Sparrow at the Wellington "Midwives Getting Organised" course. |
| NRC Chair Michelle Archer (2nd left) with Southern reps at the Dunedin women's leadership course. | NRC rep Jo Simpson (left) and Jill with Prime Minister Jacinda Ardern at the Hamilton CTU-Government Forum. |
What is the NRC's role?
Sets the policy and strategic direction for the membership
Provides a forum for members to influence the direction of MERAS
Currently overseeing a process to develop agreed values to underpin MERAS strategy